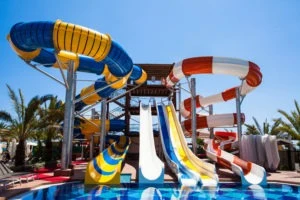 Waterparks are great place to go in the summer to cool off and enjoy a day in the sun with your friends and family.
It is important for families to know, that although these parks are designed for entertainment, any waterpark can present hazardous conditions if they are not properly maintained, and safety rules are not followed.
Distracted operators of waterslides, debris on the floors and even misuse of water chemicals can all attribute to a patron getting injured at a waterpark.
If you have been injured at a waterpark, do not assume the blame. If the waterpark failed to provide its guests with a safe environment that caused your accident to occur, a premise liability claim may be pursued.
Types of waterpark dangers:
Defective waterslides.
Missing safety equipment or defective safety equipment.
Negligent maintenance of rides.
Inattentive or reckless operator behavior.
Failure to warn of dangerous areas. (Such as wet floors and areas)
Improper use of chemicals in the water.
Serving spoiled food.
For a free legal consultation, call 412-661-1400
What you should do if you are injured at a waterpark:
Get medial help right away.
Report the injury to management.
Take photos of the area where your accident occurred.
Get names and phone numbers of witnesses if possible.
Although accidents at waterparks may not happen often, when they do, the injuries can result in disabling conditions or even death.
Drowning ranks fifth among the leading causes of unintentional death in the United States. On average, ten people die per day due to unintentional drowning.
According to the Consumer Product Safety Commission, it is important to take your own precautions when visiting a waterpark.  This includes reading all signs and obeying all rules, choosing appropriate rides for your age and health and avoiding any slide or area you feel looks poorly maintained or the operator is inattentive.
Recovering compensation after an accident.
If you have been injured at a waterpark park due to someone else's carelessness, you may be entitled to compensation. It is a property owner's responsibility to provide a safe environment for its guests. Contact the attorneys at Berger and Green for a free no obligation consultation at 412-661-1400.
Call or text 412-661-1400 or complete a Free Case Evaluation form