Becoming disabled can be a truly terrifying experience. In addition to worrying about paying your medical bills, you are likely also wondering how you will continue to support your family if you cannot go back to work.
Fortunately, you have some options. The Social Security Administration (SSA) provides several types of benefits to individuals who are physically or mentally unable to work and are in need of income. This includes Social Security Disability Insurance (SSDI) and Supplemental Security Income (SSI).
Unfortunately, this process is difficult and often ends in denials. Our team will not leave you to go through it on your own. We will be there for you from start to finish — helping prove the validity of your disability and taking you through the steps of the appeals process if necessary.
For a free consultation with a Social Security disability lawyer in Pittsburgh, give us a call: 412-661-1400.
Unable to Work Due to a Disability
If you are unable to work due to a disability, you might be entitled to disability benefits. However, recovering these benefits is not simple. To get the benefits you deserve, you need to provide proof of your qualifications.
While this can be easy for your work history and income, it is often much more difficult to prove you suffer from a health condition that impairs your ability to work to the degree the SSA requires.
To determine whether you have a disabling impairment, the SSA will consult a document, sometimes called "the Blue Book". This book contains dozens of potentially disabling impairments and the severity criteria you must meet to be disabled according to the SSA. If you meet the severity criteria or you have another impairment so severe that it keeps you from adjusting from any job — and your medical records clearly show this — you can clear the biggest hurdle in meeting the definition of "disabled" set by the SSA.
You also need to have enough work credits to be eligible for SSDI. How many credits you need depends on your age.
Most people attempt to file a Social Security disability application on their own, but we encourage you to contact us before you submit your claim. By evaluating applications before clients submit them, we can often help clients gain approval the first time and avoid the appeals process.
For a free legal consultation with a lawyer serving Pittsburgh, call (412) 424-6079
What if I do not have enough work experience?
If you do not have enough work credits, you might have another option. If you have low income and limited assets ($2,000 for individuals, $3,000 for couples), you might qualify for SSI.
SSI is a program designed for disabled or blind adults and children and those over 65.
Personal Injury Lawyer Near Me (412) 424-6079
Filing a Social Security Disability Claim? Make Sure You Get the Benefits You Deserve!
Did the Social Security Administration (SSA) deny your claim for disability benefits? As discouraging as this can be, you are certainly not alone – about two-thirds of disability applications get denied on the first try. The good news is that you have multiple levels of appeal to continue fighting for the disability benefits you deserve. And we can help you!
In our over 40 years of experience, Berger and Green has helped thousands of injured and disabled people in the Pittsburgh area fight for the benefits and compensation they deserve. Fill out the contact form now to get started.
We know the Social Security disability process can be overwhelming and complex, especially for disabled claimants already facing the disappointment of an initial claim denial. From the moment you hire us to represent you, our Social Security disability lawyers provide comprehensive support and service. Here are just some of the things we do to help you get disability benefits:
Review your initial application and the SSA's reason for denying your claim.
Identify any gaps or deficiencies in supporting medical evidence and get the right documents to fulfill the SSA's requirements.
Identify any administrative or technical reasons for the SSA's denial, and fix any problems.
File the necessary documents to request a reconsideration or hearing.
Take your case to the Appeals Council, if advisable, and later to federal court if you still do not receive a favorable decision.
Click to contact our Pittsburgh Personal Injury Lawyers today
What if the SSA denied my claim?
Unfortunately, it is not uncommon for qualified individuals to receive a denial letter after their initial claim for SSDI or SSI benefits. The good news is we are often able to help our clients secure the benefits they deserve, even after the SSA denied their claim.
Once you receive a letter of denial, you have 60 days to file a request for reconsideration or request a hearing. This means you should call us as soon as possible after your Pittsburgh disability benefits denial. If we are not able to file an appeal before this deadline, you must file a new application. This may prevent you from collecting all the back pay due to you when we secure the benefits you deserve.
The approval rate for the reconsideration stage is low, but, we can, in most cases, benefits and back pay for our clients in an ALJ hearing. This hearing gives us the opportunity to present the evidence that supports your claim in front of an impartial ALJ who then rules on your case. If, for some reason, we cannot secure the benefits you deserve in this hearing, we can discuss further legal options for getting the money you need.  
The appeals process is often long and difficult, but we will be by your side from start to finish.
Complete a Free Case Evaluation form now
Social Security Disability Lawyers in Pittsburgh
The Social Security attorneys at Berger and Green have been successful in securing favorable decisions for clients throughout Western Pennsylvania, Eastern Ohio, Northern West Virginia, and surrounding areas. Our law firm is proud to have attorneys who stay informed on all the changes in Social Security law and who are concerned about the welfare of their clients.
At Berger and Green, our lawyers understand that physical or mental disabilities can dramatically affect your life. Because of this, they will go after the benefits you deserve and fight for the full amount of back pay owed to you. Our attorneys accept cases on an affordable, contingency fee basis, which means you will not pay us any money unless we win your case.
Contact a Pennsylvania Social Security attorney at our Pittsburgh office at 412-661-1400 for a FREE CONSULTATION. Let the lawyers at Berger and Green help you go after the money you deserve. We fix broken lives!
Additional Information:
Free case evaluations • NO attorneys' fees or costs unless we recover a settlement, benefits, or verdict in your case • We can initiate your case by phone or e-mail – Contact us today at 412-661-1400.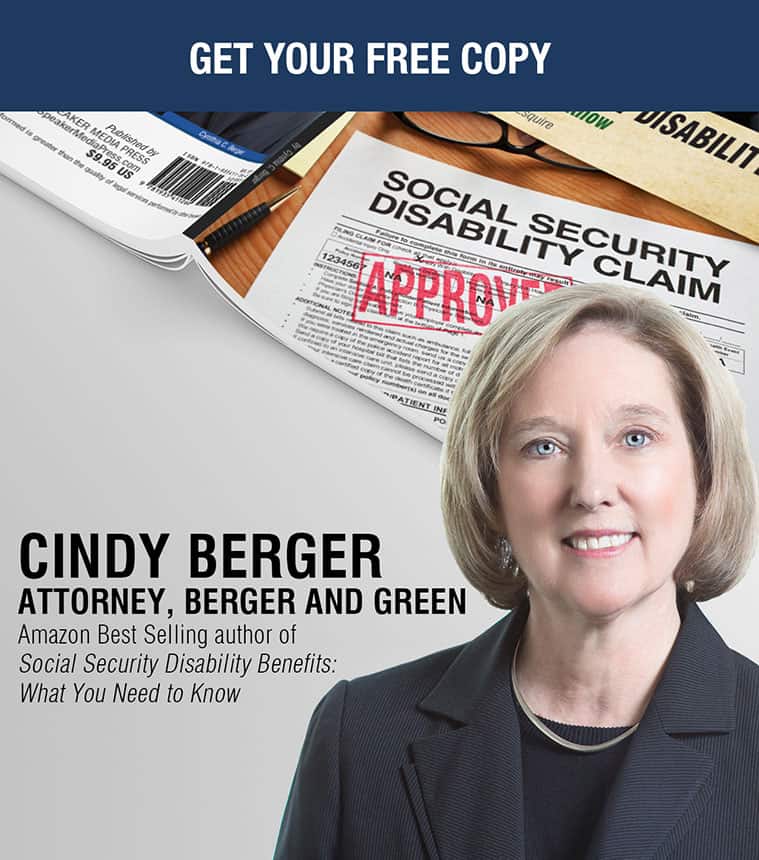 Call or text (412) 424-6079 or complete a Free Case Evaluation form