Physical Disability and Social Security Disability Lawyer
Whether you have a condition that has caused a slow decline in your health or have sustained a serious injury, physical disabilities can be incredibly difficult to deal with. If you have an illness or injury that keeps you from working for at least 12 months, you may be eligible for Social Security Disability Benefits.
There are a wide range of physical disabilities that can keep you from working. If you experience pain, lack of mobility or range of motion, organ malfunction, or other physical symptoms, it is possible that you could receive SSD or SSI benefits. At Berger and Green, we will provide you with the legal service you need to go after the benefits you are owed so that you can bring financial stability back into your life and begin focusing on your health and recovery.
Some of the most common physical disabilities are:
Blood Disorders
Cancer
Breast Cancer
Cancer Treatment Disability
Ovarian Cancer
Chronic Fatigue Syndrome
Chronic Pain
Complex Regional Pain Syndrome
Gastrointestinal Problems
COPD
Physical Disabilities and Social Security
For a free legal consultation with a lawyer serving Pittsburgh, call (412) 661-1400
If you or a loved one suffers from any of these conditions, or any injury or condition serious enough to keep you from working for 12 months, you should contact an attorney who can appropriately and effectively file a social security benefits claim or pursue an appeal of your claim. The attorneys are committed to assisting clients recover their SSD and SSI social security benefits. At Berger and Green, we understand that traveling to an office can be difficult, and we can initiate your case over the phone or via e-mail. For experienced and compassionate representation, contact our Social Security Disability lawyers today.
Free case evaluations • NO attorneys' fees or costs unless we recover a settlement, benefits, or verdict in your case • We can initiate your case by phone or e-mail – CALL today (412) 661-1400 or Contact us online
Personal Injury Lawyer Near Me (412) 661-1400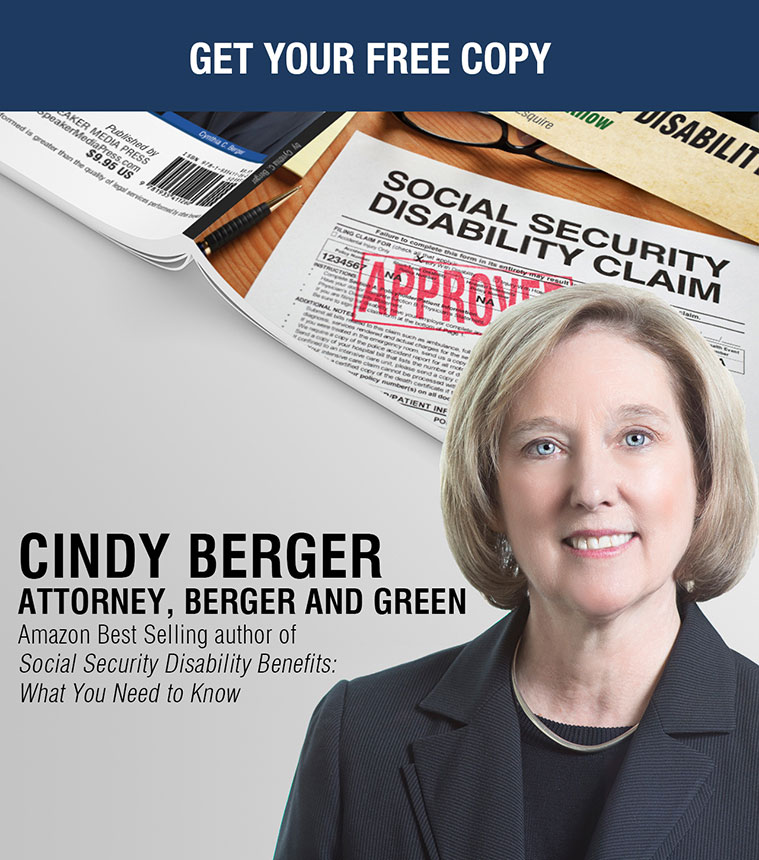 Call or text (412) 661-1400 or complete a Free Case Evaluation form