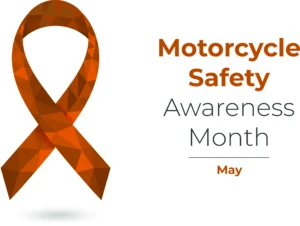 Pennsylvania's Motorcycle Awareness Month 2022
Motorcycle Awareness Month has officially begun. With warmer weather on its way, it is time to remind everyone the importance of being an alert driver while sharing the road with motorcyclists.
According to the 2020 Pennsylvania Crash Facts and Statistics manual, (2021 has not been released yet) there were a reported 3,503 motorcycle accidents in Pennsylvania; 217 of those accidents were fatal.
Sadly, these statistics have been on an upward trend over the last few years.
In order to lower injuries and fatalities, we need to be aware while driving, obey speed limits and be a responsible driver.
How you can participate in Motorcycle Awareness Month
Motorists should take an extra moment to carefully check for motorcycles when changing lanes or turning at an intersection.

A motorcycle can be hidden in a vehicle's blind spot or covered by an object such as a bush or sign.
Drivers should keep plenty of distance between them and the motorcycle in the event they must come to an abrupt stop. Keep in mind, motorcycles cannot stop as abruptly as a vehicle can.
Motorcyclists should avoid riding in inclement weather.
Motorcyclists must always use turn signals.
Motorcyclists can also do their part to keep themselves safe on the roads by wearing a safety helmet. Helmets reduce the risk of death by 37% and reduce the risk of a head injury by 69%. In Pennsylvania, motorcyclists over the age of 21 are not required to wear a helmet. You can read our previous blog post here which goes into more detail about Pennsylvania's motorcycle helmet laws.
Motorcycles are vehicles that have the same rights and privileges as all other vehicles on roadways. If you have sustained injuries in a motorcycle accident, contact the personal injury attorneys at Berger and Green. We can answer your questions and provide you with a free consultation to discuss your case.
Call or text 412-661-1400 or complete a Free Case Evaluation form