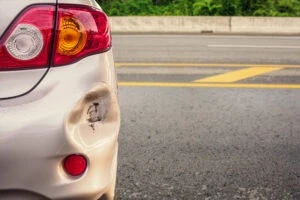 Fault in a multi-vehicle car accident rests with the driver whose negligent actions caused the collision. However, determining who that is can be complex, and multiple parties may be responsible. Below, we explain more about Pennsylvania car accident liability and how you could recover compensation for your damages.
Multi-Vehicle Collision Liability
Who is at fault in a multi-vehicle accident will depend on the crash's circumstances. Financial responsibility will rest with the party whose negligent, wrongful, or reckless actions caused the initial collision.
For example, say you were in a rear-end accident involving three automobiles. In these crashes, the driver who struck the lead car is usually liable because motorists have the right to stop when necessary for their safety. The trailing vehicle must pay attention to the road ahead. However, they may be liable if the lead driver stopped abruptly for something frivolous, such as checking a text.
In general, for any negligence-based case, you or an attorney must prove the following four elements:
The at-fault party owed you a duty of care.

Under the law, all drivers must drive safely, obey traffic laws, and avoid actions that could harm themselves or others.

Breach of duty.

You must show the at-fault party breached the duty of care. In car accident cases, a breach includes disobeying traffic laws or engaging in negligence or reckless behavior like drinking and driving, texting and driving, or driving aggressively.

Causation.

You must establish the at-fault party's negligent behavior was a direct cause of your wreck.

Damages.

You must prove the auto accident led to physical injuries, financial losses, and pain and suffering.
How Can You Prove Fault?
To recover personal injury compensation, you must build a solid case proving the above elements of negligence. Doing so requires collecting and using evidence to determine what happened and who is at fault. This can be challenging in a multi-vehicle accident because it can be difficult to sort out physical debris, uncover the chain reaction of events, and get to the bottom of what happened.
It could benefit you to consult with a lawyer from our firm who can put our team's 40-plus years of car accident experience behind your case. We can:
Obtain a copy of the police report and speak with officers who were at the accident scene

Find and interview eyewitnesses to document their accounts of what happened

Locate available dashcam, cell phone, or surveillance footage video of the crash

Take photographs of vehicle damages

Photograph the accident scene and collect physical evidence

Hire and consult with a crash reconstruction expert if necessary
What If More Than One Party Is Responsible for the Accident?
If more than one party is at-fault in a multi-vehicle accident, you can seek damages from every party contributing to your injuries and losses. In addition to negligent drivers, other potentially liable parties may include:
A vehicle or auto parts manufacturer

A roadway owner

A negligent pedestrian or bicyclist

A commercial driver's employer
According to Pa. C.S.A. § 7102, you can pursue compensation from each liable party proportionate to their degree of fault. So, if the court finds you have $100,000 in damages, one driver is 30 percent at fault, and another motorist is 70 percent at fault – they would pay you $30,000 and $70,000, respectively.
In addition, the court will reduce your compensation by any degree of fault it assigns you. You cannot recover losses if you are more than 51 percent liable.
For a free legal consultation, call 412-661-1400
What Car Accident Damages Can You Recover?
Pennsylvania follows a "choice" no-fault insurance system. Under this model, all drivers must carry at least $5,000 in personal injury protection (PIP) insurance. Most PIP coverage pays for the following damages (up to your policy limit), no matter who caused your crash:
Medical expenses
Lost income
Disability benefits
Replacement services
Funeral and burial expenses (if you lost a loved one in a multi-vehicle collision)
If accident expenses exceed your PIP coverage limits, you can seek additional losses with a liability insurance claim or personal injury lawsuit against an at-fault party. If you choose limited tort coverage, you can recover only the above compensation (economic damages). You usually cannot seek compensation for pain and suffering (non-economic damages) unless you choose full tort coverage.

If you have full tort or otherwise qualify to step outside the no-fault system, you can seek monetary awards for the following:
Severe and chronic pain
Scarring
Disfigurement
Loss of mobility
Permanent or disabling injuries
Mental anguish
Emotional distress
Loss of enjoyment
Loss of a loved one's society, comfort, and guidance
How Long do You Have to Pursue a Multi-Vehicle Accident Claim?
You should start on your multi-vehicle accident claim immediately. Multi-car collisions can take a lot of time and effort to investigate, and you want to leave an ample window to build your case and work through insurance negotiations.
You can take legal action if you cannot reach a settlement agreement with the insurance company. However, you have a limited time to do so. According to Pa. C.S.A. § 5524, you have two years from the accident date to pursue a personal injury lawsuit or a survival action. The statute of limitations also allows two years to sue for wrongful death, starting on the date of your loved one's passing.
Once the statute expires, you likely will have less insurance bargaining power, and the court will likely throw out any suit you file. This could leave you with a diminished or denied claim and no other options for seeking compensation. We can help you get started before it is too late.
Click to contact our personal injury lawyers today
Contact Berger and Green for Help With Your Multi-Vehicle Accident Case
Contact Berger and Green today for a risk-free, no-cost consultation with one of our car accident lawyers. A team member can tell you more about our services and how a lawyer with our firm can protect your rights and fight for fair and full compensation for your injuries and damages. We can also determine who is at fault in a multi-vehicle accident.
We work on contingency, meaning you only pay attorney's fees if and when we win your case. You may have everything to gain and nothing to lose. Connect with a lawyer near you.
Call or text 412-661-1400 or complete a Free Case Evaluation form