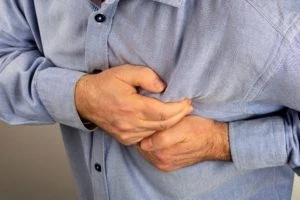 Chest pain after a car accident is a common injury. Although common, chest pain can be one of the most serious symptoms you may experience after an accident. Chest pain is usually a sign of something more serious.
These injuries or pain may not occur right after an accident. Oftentimes, adrenaline can keep you from feeling pain right away. This is why it is very important to seek medical treatment after a car accident as soon as possible.
Causes of Chest Pain After an Accident
One common cause of a chest injury can be your seatbelt. Seatbelts save lives but can also result in chest injuries due to the force exerted by a seat belt that restrains a person during a crash. Although seat belts can cause injuries, you should still always wear one. Seatbelts save lives.
In the event of airbags not deploying, this could cause drivers and passengers to be thrown forward into the steering wheel or dashboard. The seatbelt restraint could cause victims to suffer serious chest injuries.
No matter how your chest injury was caused, you should never take pain in your chest lightly. Chest pain could be a symptom of a more serious condition.
For a free legal consultation, call 412-661-1400
Compensation After an Accident Involving Chest Pain
After a person suffers an injury in an accident, they are able to pursue compensation for those injuries. They do this in the form of a personal injury claim. They are entitled to damages, or money owed to them, due to their losses sustained because of the accident. This can include compensation for:
Medical bills
Wage loss
Property damage
Physical or emotional pain and suffering
These damages will vary depending on what your injuries are and how they affect your life. Consulting a car accident lawyer after your accident will help you determine what your case is worth and what you may be entitled to.
Chest Pain Injuries You Can Include in Your Claim
Chest pain after a car accident should always be taken seriously. The cause of your chest pain may be due to something common like bruising, or it could be a sign of a more serious condition.
If you have chest pain after a car accident, you may have suffered one of the following types of injuries:
Whiplash: An injury that can occur when the head and neck suddenly move backward and forward. This can then result in chest pain also.
Muscle Strain: A stretching or tearing of muscle or tissue in the chest area.
Costochondritis: Cartilage inflammation where the rib meets the breastbone.
Bruised Ribs: A bruise will occur under the rib if trauma causes bleeding to occur under the skin.
Bone Fracture: A complete or partial break in a bone.
Internal Organ Injuries: Internal injuries to an organ can cause chest pain.
Torn or Ruptured Veins or Arteries: This is a life-threatening condition when a vein or artery becomes injured in a crash.
Heart Attack: A stressful event such as a car accident can cause an individual to have a heart attack. People can misinterpret a heart attack as simply chest pain.
Chest pain should be taken seriously. You should seek medical help at the first sign of pain. Medical documentation will also be needed in the event you pursue a claim against the at-fault party.
Click to contact our personal injury lawyers today
Treatment and Recovery Times for Chest Pain After a Car Accident
Treatment and recovery after a chest injury will vary. You will most likely need some sort of diagnostic imaging testing to determine what your injury entails. Your treatment plan will be specific to your type of injury.
Some treatment plans can include:
Surgery
Physical therapy
Medication
Since each injury is unique, the treatment plan and length of treatment will all vary.
Medical records contribute to the value of a personal injury case. They are extremely important. It is imperative to keep track of the doctors you see and the facilities where you receive treatment. A personal injury lawyer will gather your medical records to make a recovery on your behalf.
Medical documentation, the severity of the injury, treatment plan, and length of recovery will all support a person's claim when pursuing damages after an accident. A chest injury can affect your work capacity, quality of life and make day-to-day activities challenging. You should always consult a car accident attorney after an accident. It is your lawyer's job to build a strong claim for damages against the at-fault party and help you focus on your recovery.
Complete a Free Case Evaluation form now
Contact Our Firm to Learn More About Your Rights After an Accident
Do not assume chest pain after an accident is common and there is nothing you can do. It is important to seek medical attention to treat your chest pain and rule out any serious underlying conditions. It is also important to hold negligent parties accountable for your injuries.
Chest pain after a car accident, whether mild or severe, can greatly impact your life. If you or a loved one suffered from chest pain after a car accident, it is important to know your rights. At Berger and Green, we take into account your present and future needs. Contact Berger and Green for a free no-obligation consultation today.
Call or text 412-661-1400 or complete a Free Case Evaluation form