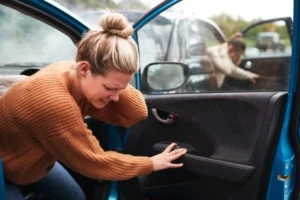 Before your personal injury case is resolved, you can request more money to cover the accident costs in Pittsburgh, PA, if a settlement offer is insufficient. However, a settlement or jury verdict after a car accident, accidental fall, or other negligence-based injury is final. If your personal injury lawsuit has already been settled or resolved in court, you will not be able to request additional compensation.
Accurately establishing a value for your injuries and the expenses that stem from your injuries prior to making a settlement demand is very important. A personal injury lawyer familiar with state and local law and with the insurance industry practices can help you understand how to value your case. They can determine what damages are recoverable and the evidence you need to prove the cause and subsequent costs of the accident.
After an Accident, What Money Can I Request?
The law requires you to prove the at-fault party's negligence to qualify for compensation. A lawyer can help you prove their duty, breach, cause, and your damages. These are the legal components of negligence. You can then ask the at-fault party or their insurance company to cover the following expenses and losses:
Medical bills
Loss of income
Loss of earning capacity
Vehicle damage
Physical disability
Physical impairment
Pain and suffering
Mental anguish
Emotional distress
You can also recover wrongful death damages if a loved one was fatally injured in the accident. Only certain family members qualify for wrongful death and survival damages. Your lawyer will help you understand who in your family can file this lawsuit.
When your lawyer calculates the value of your case, he will make sure all valid expenses are included. He will create a detailed list of damages to ensure your settlement demands fully cover your losses in the past and possible future.
Do I Have to File a Lawsuit Even If I Prefer a Settlement?
In some cases, yes, because if you cannot reach a settlement agreement and the statute of limitations for filing your lawsuit expires, you could inadvertently relinquish your right to financial recovery.
In Pennsylvania, the personal injury statute of limitations is generally two years, according to Pa. C.S.A. § 5524. The statutory clock starts running on the date the accident occurred.
The same statute generally entitles you to two years to file a wrongful death and survival lawsuit if a member of your family was fatally injured in the accident. The deadline starts running on the date of your loved one's accident. A lawyer can help you prove the applicable date in each type of case and ensure timely compliance.
For a free legal consultation, call 412-661-1400
How Can a Lawyer Help Me Get a Fair Settlement?
In Pittsburgh, PA, you can work with the at-fault party's insurance company on your own and try to reach a fair settlement. Your compensation case might also benefit from the guidance of a personal injury lawyer. A lawyer can:
Carefully and accurately assess the value of your case
Read and review all insurance forms and documents
Submit your insurance claim form or file your lawsuit
Establish compelling proof of negligence
Field each offer you receive and explain its feasibility
Your lawyer can also negotiate a favorable monetary settlement with the insurance company and help you make a well-informed decision. If both parties cannot reach a settlement agreement, your lawyer will prepare your evidence for trial and represent you in court.
What Evidence do I Need to Prove the Value of My Case?
Proving you are entitled to financial recovery requires proving the other party's negligence. Ensuring your damages are accurately valued and nothing is omitted will require another set of evidence.
Medical bills
Salary history
Written prognosis
Vehicle repair receipts
Vehicle replacement values
Therapy and rehabilitation receipts
The process of evidence collection can serve another purpose. It can help ensure you do not leave any valid expenses off your list or fail to include hidden yet recoverable costs. If your case is accurately valued and properly documented, your lawyer can fight to get the best possible financial recovery.
The final decision to accept a settlement is ultimately yours, not your lawyers to make. That said, reviewing settlement offers with your lawyer can ensure you do not sign an agreement that is insufficient to cover the accident's costs.
Your Initial Consultation Is Free at Berger and Green
Were you or someone you love injured in an accident? If you are concerned about the value of your financial compensation, our personal injury lawyer can explain how and when you can request more money to cover the costs of an accident in Pittsburgh, PA. Learn more about how we help injured clients seek appropriate compensation by calling one of our team members at (412) 661-1400 today.
Call or text 412-661-1400 or complete a Free Case Evaluation form