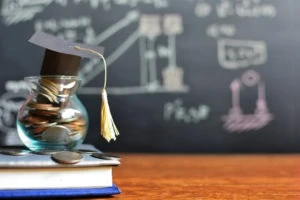 Berger and Green is pleased to congratulate this year's winner of the Berger and Green Heart Disease Scholarship, Joshua Peterson.
Peterson will be a first-year medical school student at West Virginia University's School of Medicine in the Fall of 2022. In recognition of Peterson's outstanding achievements, career goals, and community service ethic, he will receive $1,000 to help pursue his medical path. Specifically, Joshua hopes to one day assist medically fragile orphans around the world.
After Facing Childhood VSD, Dreams of a Life in Medicine
Joshua Peterson understands quite a lot about overcoming challenges and the role medicine plays in it.
Born in China with a severe ventricular septal defect (VSD), Peterson's international adoption agency offered him the chance to receive life-saving open heart surgery in the United States. Peterson notes that he never forgot how his opportunity to receive crucial medical care shaped his life.
Motivated by his experience, Peterson chose a path in medicine himself. He will begin his first-year medical studies through West Virginia University's Culinary and Lifestyle Medicine Track. Peterson also intends to pair his studies in lifestyle medicine with a focus on global health. After medical school, Peterson hopes to work with orphans internationally or within the United States.
Advocating for International Children in Need Medical Care
Even as a college student, Peterson wasted no time getting started with his goal of serving others in need. Remarkably, he took an internship at the same international adoption agency that connected him to his adoptive family.
He was moved when he discovered the hurdles orphans confront with international adoption. Many children, Peterson found, do not qualify for adoption because of a health condition, even though these children could receive life-saving care abroad. Agencies only make exceptions to these guidelines with a physician's endorsement. However, doctor shortages often prevent many children from receiving such endorsements.
Peterson's case was an exception to this unfortunate standard. One doctor advocated for him and others with health conditions, allowing him to receive approval for adoption by his agency. Many orphaned children around the world, Peterson notes, would pass away from their health conditions before qualifying for adoption—if not for the work of doctors like Peterson's.
Serving His Community in More Ways Than One
Peterson's ethic of hard work and service is reflected in many forms of community involvement.
You can find Peterson volunteering for a therapeutic recreation program every Saturday. In the program, volunteers accompany children with disabilities on bike rides, offering companionship and guidance. As a cyclist himself, Peterson notes that he's happy to offer others a chance to enjoy riding.
Peterson is also a volunteer at nursing homes, where he enjoys meeting and talking with the residents.
For a free legal consultation, call 412-661-1400
About the Heart Disease Scholarship
Berger and Green serves people with disabilities and injury victims. Because of our commitment to our community, we offer the Heart Disease Scholarship annually to an eligible hardworking college student. Berger and Green started the Heart Disease Scholarship in 2017. We believe that heart disease should not stop students from pursuing their dreams.
According to the Centers for Disease Control and Prevention (CDC), younger people are increasingly at risk of heart disease. Our team understands the significant impact that congenital heart disease and other forms of heart conditions can have on young people's health and lives. With the challenges that students overcome, we want to offer some extra support to help them lead full, enriching lives.
Past Recipients
Berger and Green's 2020 Heart Disease Scholarship recipient was Meredith Labuda of Ballwin, Missouri. Miss Labuda, who received the scholarship as a senior, went on to attend St. Louis University for studies in pediatric nursing.
Miss Labuda was born with Hypoplastic Left Heart Syndrome, a condition that prevented her heart's left side from pumping blood to the body. After facing several surgeries to address this heart defect, she noted how the nursing staff inspired her with their positivity and their caring attention. Moved by her experience, she determined to spend her own life caring for others in a similar situation.
Eligibility for Berger and Green's Heart Disease Scholarship
Undergraduate and graduate students living with heart disease may apply for Berger and Green's Heart Disease Scholarship. Students should also meet the following eligibility criteria:
Have a diagnosis of congenital heart disease or another form of heart disease

Show proof of acceptance or enrollment in an accredited college for undergraduate or graduate studies in the U.S.

Have a 3.0 GPA or higher

Agree to the scholarship's terms and conditions
To apply, students will need to submit an application, transcripts, and an essay.
When scholarship opportunities reopen, Berger and Green will announce future application deadlines online.
Call or text 412-661-1400 or complete a Free Case Evaluation form