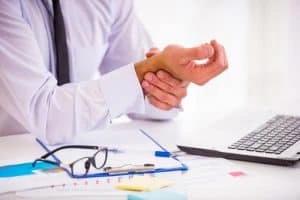 If you were injured at work, you need to take three basic, initial steps:
Notify your employer.
See an approved doctor.
File a workers' compensation claim.
These straightforward steps will take you a certain portion of the distance in the process of receiving your workers' compensation benefits.
Step 1: Notify Your Employer
Do not skip this step. Do it immediately after your workplace accident, regardless of whether you are aware of its having caused an injury. You might not see any signs of injury right away, but that does not mean you are in the clear. Some injuries do not manifest as symptoms for days, weeks, or longer.
Notifying your employer can also help prevent accidents of a similar nature in the future. Get an accident report form from your employer, complete it, and give it to your supervisor so he or she can take the appropriate actions.
For a free legal consultation, call 412-661-1400
Step 2: See an Approved Doctor
Under the PA Workers' Compensation Act, your employer can post a list of designated health care providers. The law requires that this list contain a minimum of six providers, three of which must be physicians. The list must include the name, address, telephone number, and specialty of each physician on the list.
If you require a certain specialty that is not on your employer's list of designated health care provider, you are entitled to seek treatment from a physician of your choosing.
Step 3: File a Workers' Compensation Claim
Most states require that you file your claim within a set period of time after the accident occurred. Once this time has lapsed, you might lose your rights to receive workers' compensation benefits. A workers' compensation lawyer in Pittsburgh can help you act quickly to ensure this does not happen to you.
More than likely, you can obtain this form from your employer. If not, request one from the Pennsylvania Workers' Compensation Board.
Be prepared to address the following questions in your workers' compensation form:
What are your injuries? What parts of your body were injured?
How did the accident happen?
Who was involved in the accident?
Where and when (date and time) did the accident occur?
Have you received medical treatment? (be prepared with details of the treatment you have received).
Click to contact our personal injury lawyers today
Following Your Claims Process
Once you have filled out your workers' compensation form and given it to your employer, the ball is in your employer's court. The company will complete its portion of the form.
The form is then filed with a worker's compensation claims administrator, as well as the Pennsylvania Workers' Compensation Board office.
You will be contacted within a reasonable amount of time and told whether your claim has been accepted and, if it has been, how much compensation you can expect to receive.
Complete a Free Case Evaluation form now
Keep Your Workers' Compensation Claim on Track
Document, document, document. This is the best way to keep your workers' compensation claim moving along smoothly and efficiently. Keep records of any information, correspondence, or expense related to your workplace injury, including the following:
Documents and forms:
You will receive many forms to fill out and documents to review. Keep everything—even the envelopes in which the documents arrived and copies of the envelopes in which you sent anything. The envelopes' postmarks can prove useful in the review and processing of your case.
Journal your injuries:
Workers' compensation is affected by the extent to which your injuries affect your ability to work. If your injuries make it painful to do your job or if they simply make your job harder to do or take longer to complete, take note of these details in your journal.
Medical records:
Your claims administrator will have access to all your medical reports. Request copies of everything.
Make notes of conversations:
You need to document any conversation you have that relates to the workplace accident and/or the injuries that resulted from the incident.
Work records:
Workers' compensation is based completely on your ability to work. You want to be able to demonstrate that your workplace injury has affected your income and your ability to perform the duties of your job. Organize past pay stubs, checks, and time sheets. File them along with current and future proofs of work schedule and pay.
Expenses:
Workers' compensation provides for reimbursement for any out-of-pocket expenses you have incurred in relation to your injury. Be sure to save receipts for medicine, travel expenses associated with attending medical visits, etc.
A Workers' Compensation Lawyer Can Help You with Your Case
If you have been injured at work, you are entitled to claim workers' compensation benefits. The process can be overwhelming especially as you try to recover from your injuries, but a work injury lawyer in Pittsburgh can help make the process easier.
The legal team at Berger and Green can help you navigate the waters of workers' compensation. Call today at 412-661-1400 to schedule a free, no-obligation case evaluation.
Call or text 412-661-1400 or complete a Free Case Evaluation form