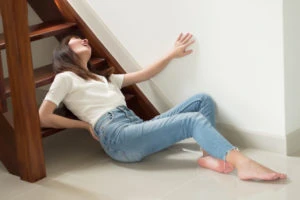 You can get a wide variety of injuries from falling, including some that leave you with long-term consequences, like chronic pain or disability. A fall can happen in many different scenarios, affecting the severity or type of injuries you suffer. Some examples of common injuries from falls include:
Bruising
Lacerations
Neck or back injuries
Broken bones
Sprains
Hip fractures
Traumatic brain injuries
Organ damage
Mild-to-Moderate Injuries From Falling
While every type of injury can range in severity from mild to severe, some tend to be easier to recover from than others. In general, the following injuries are in the mild-to-moderate group group:
Bruising – Bruises can happen on any part of your body that suffers impact during the fall. Depending on where they occur, bruises can make walking, moving, sleeping, and other activities difficult due to prolonged soreness.
Lacerations – Many fall victims wind up with scrapes or deep cuts. This can happen while trying to catch yourself or from hitting an object on the way down.
Muscle sprains – Many fall victims find themselves with extreme tenderness and pain in their muscles. If you twist an ankle or land on your wrist when you fall, the muscles may be severely sprained and require several days or weeks of rest to avoid further complications.
Neck injuries – A neck injury can happen due to an impact or from twisting as you fall. It may also involve a traumatic brain injury. Neck injuries can lead to limitations in your range of motion and chronic pain.
Severe Fall Injuries
Injuries involving the brain, spinal cord, or bones can be quite severe, depending on the circumstances. These injuries may be further complicated by age. For example, elder adults who suffer broken bones, such as hip fractures, can have a much harder time recovering due to long periods of bedrest involved. The following injuries are the most likely to be severe and require extensive treatment:
Traumatic brain injuries – If you hit your head during any part of a fall, it can lead to a severe brain injury. This type of injury can be difficult to diagnose because the symptoms are not always immediately clear. If you are experiencing dizziness, blurred vision, trouble staying awake, or headaches after a fall, you should get a medical examination as soon as possible.
Internal organ damage – If you fell a great distance or landed with significant impact, you could experience trauma to your internal organs. An example would be falling down a flight of stairs. Because internal bleeding and organ damage are difficult to diagnose, it may be a good idea to see a doctor as soon as possible if you think the fall was severe enough to impact your internal organs.
Back injuries – A back injury can include damage to your spine, severe bruising, and more. Back injuries are often debilitating and require ongoing treatment. This can consist of surgery, medication, physical therapy, and chiropractic appointments.
Broken bones or fractures – As you brace for a fall or land on different parts of your body, the impact can lead to broken bones and fractures. This is particularly true for individuals who suffer from bone issues like osteoporosis.
Seek Medical Attention Promptly
Some of these injuries can heal over time with medical treatment and rest. Others may permanently alter your physical abilities and make it difficult for you to return to your normal life. It is important to see a doctor as soon as possible after a fall to make sure you get the medical attention you need. This can help prevent your injuries from getting any worse and allow you to start your journey towards recovery.
If you decide to pursue compensation through an insurance claim or lawsuit, medical records will be an essential part of your case. Getting prompt medical treatment can help establish how your injuries happened and prove that someone else is responsible for them.
How Fall Injuries Can Impact Your Life
If you suffer a fall and wind up with serious injuries, you may find yourself unable to work, care for your children, or enjoy your usual hobbies. Some injuries are so severe that you may not even be able to handle daily tasks yourself, like eating, dressing, or bathing.
If you fell because someone else acted carelessly, you may be entitled to damages for your injuries and expenses. Doing so can help you cope with the financial impacts of the fall. In the unfortunate event that a fall caused your loved one to lose their life, you may be able to bring a wrongful death claim on their behalf, according to 42 Pa. C.S.A. § 8301.
Call Now For a Free Consultation
If you decide to pursue compensation, consider hiring our law firm to represent you. We offer various services that can help you along the way and make sure you follow the many procedural rules that apply to your situation.
For example, the statute of limitations for a personal injury lawsuit in Pennsylvania is two years, according to 42 Pa. C.S.A. § 5524. If you do not file your lawsuit within this time period, you waive your right to receive compensation. A lawyer from our team can help you determine how quickly you need to file your case to preserve your right to compensation.
To learn more about the injuries you can get from falling and when they may qualify you for damages in Pittsburgh, call Berger and Green now. We provide a free consultation to help you get the information you need about your legal rights. The call is free and confidential, so there is no risk in contacting us. Dial (412) 661-1400 now.
Call or text 412-661-1400 or complete a Free Case Evaluation form