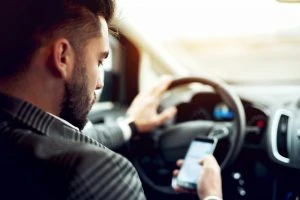 The dangers of distracted driving include the increased risk of car accidents, catastrophic injuries, and fatalities.
Understanding Distracted Driving
Distracted driving is any moment that a driver does not have full attention on the roadways. This can include activities such as texting while driving, talking on a cell phone while driving and not using a hands-free device, eating, drinking, smoking, talking with others inside of a vehicle, changing a radio station, using a GPS device, or any other activity that distracts a driver from the roadway.
To help understand how dangerous distracted driving is, research shows that sending and/or reading a text message on a cell phone distracts a driver for approximately five full seconds. Driving at a normal speed of 55 miles per hour on the highway would mean that the driver failed to pay attention to the roadway for the entire length of a football field.
For a free legal consultation, call 412-661-1400
Distracted Driving and Fatalities on the Roadways
According to the National Highway Traffic Safety Administration (NHTSA), in 2018 alone, distracted driving claimed 2,841 lives, which included 1,730 drivers, 400 pedestrians, 605 vehicle passengers, and 77 bicyclists.
Distracted Driving and Pennsylvania Law
Legislators in the state of Pennsylvania understand the dangers of distracted driving. With 1.6 million car accidents occurring in the United States every year as a result of texting while driving, Pennsylvania made the choice to outlaw any texting while driving. According to the Pennsylvania Department of Transportation (PENNDOT), any device used to send or read text messages can not be in use or utilized by a driver while a vehicle is in motion. However, it is important to note that Pennsylvania has not outlawed talking on a cell phone while driving, which can also be a major source of distraction while driving. Ultimately, any form of distracted driving can result in a serious accident causing injury or death.
Click to contact our personal injury lawyers today
Determining if Distracted Driving Caused an Accident
If you experienced a car accident that you believe was the result of distracted driving, you may have a great deal to prove in order to ensure you receive compensation for your injuries and losses. Visiting with a car accident attorney can help you understand how to build a personal injury case that includes the following to prove the other driver was operating a motor vehicle while distracted:
Cell phone records to determine if the driver texted or was on a phone call at the time of the car accident
Witness testimony (including passengers in the vehicle) that indicates that the driver was either changing a radio station, eating, drinking, or checking a navigational device at the time of the accident.
Obtaining video footage from an intersection or a nearby business to prove that the driver was not paying attention to the roadway at the time of the accident.
Witness testimony to indicate the driver operated the motor vehicle in an erratic or unusual way, indicating that they had lost focus on the roadway for a moment
Complete a Free Case Evaluation form now
Consequences of Distracted Driving
Victims that experience the dangers of distracted driving often have serious injuries and losses resulting from a car accident. A victim of a distracted driving car accident may have the ability to receive compensation for the following injuries and losses:
Medical costs (doctor visits, emergency room treatments, hospitalization, surgery, medical procedures and treatments, prescription medications, transportation to medical appointments, medical devices, and more)
Lost wages (due to an inability to return to work because of the injuries suffered from the distracted driving accident)
Loss of future wages if the victim receives permanent or long-term injuries
Property damage to the vehicle and/or the contents inside the vehicle at the time of the distracted driving accident
Pain and suffering related to the injury and losses experienced following the accident
Psychological trauma including post-traumatic stress disorder
The consequences of distracted driving can prove lifelong and catastrophic. In some cases, victims die because of their injuries suffered in a distracted driving accident. In these cases, the family may have a legal right to file a wrongful death claim on behalf of their loved one that died due to someone else's negligence.
Learn More About Your Legal Rights Following a Distracted Driving Accident
If you experienced an accident that left you with injuries and losses, you have the legal right to pursue compensation for all of those injuries and losses to attempt to make you financially whole again. Learn more about your legal rights following a distracted driving accident by contacting the legal team at Berger and Green at (412) 661-1400 today. We would welcome the opportunity to visit with you and help ensure your legal rights remain protected and you receive the compensation you deserve under the law.
Call or text 412-661-1400 or complete a Free Case Evaluation form