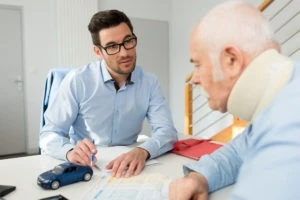 You may initially pay your medical bills after a car accident. However, you may be reimbursed for your medical costs when you accept an insurance settlement or your lawyer wins a judgment at trial.
In the case of these outcomes, those liable for your car accident may pay your medical bills.
You Or Your Insurer May Pay Your Medical Bills
Two questions arise when dealing with accident-related medical bills:
Who will pay my medical bills in the short term?
Who will pay my medical bills after all insurance claims and lawsuits are finalized?
The nature of your auto insurance policy may determine who pays in the short term. If your policy contains medical payments coverage, or MedPay, then your auto insurance will pay for accident related medical care.
What Is MedPay?
Per Investopedia, MedPay:
Covers medical treatment for you and any passengers in your vehicle
Applies if you are injured as a passenger in another vehicle
Is standard in all Pennsylvania auto insurance policies
May be supplemented by health insurance that you have
Car accident victims with MedPay may be certain that their insurer will cover their accident-related medical care. It is a layer of immediate financial protection from healthcare costs.
What If You don't Have MedPay?
Your own insurance policy may cover your medical care. The Pennsylvania Insurance Department (PID) explains that auto insurance is mandatory in the state. Minimum Pennsylvania insurance policies cover medical care up to $5,000. You may have higher coverage limits for your own medical care.
If your own auto insurance isn't sufficient to cover your medical bills, you may file a claim with the at-fault motorist's insurer. Your next option may be filing a lawsuit. If you have health insurance, you may use it to pay any immediate healthcare costs.
You, or your health insurance carrier, may be reimbursed appropriately through an insurance claim or lawsuit. They may recoup their payments when you receive a settlement or judgment.
Insurance Claims Can Prove Challenging
Insurance may be there when you need to pay medical bills. However, there are challenges with insurance claims that you should be ready for. Whether you're trying to have insurance pay for medical care up front or after the fact, you may face:
General pushback from insurance companies
Claims that some or all of your medical care is not necessary
Claims that some or all of your medical care is not accident related
Disputes about the cost of your medical care
Claims that you are responsible for your accident, and that the at-fault motorist's policy does not cover your losses as a consequence
Delays in processing or payment of your claim
Intimidation, misleading actions, or other dishonest conduct by insurance companies
In many car accident cases, insurers dispute liability. If the at-fault motorist does not admit fault, then their insurance company may not pay your claim. It could take weeks, months, or longer to obtain payment from the liable party's insurer.
Insurance companies have significant experience with claims. Their loyalty lies with one organization: their own. You can hire a personal injury attorney after your accident. They will deal with insurance companies for you.
For a free legal consultation, call 412-661-1400
How a Lawyer Can Help After a Car Accident
You can see how complicated insurance claims can be. If you need to file a lawsuit, then your post-accident to-do list may become even more complex. If you hire a lawyer, then they will handle your insurance claim or lawsuit.
You can represent yourself. There are risks in doing this, which may include:
Feeling confused and overwhelmed by the insurance process
Making clerical errors when filing a claim or lawsuit
Allowing the stress of the legal process to affect your physical recovery
No law firm will guarantee victory. However, our firm has experience and resources that you may find valuable. We can take your car accident claim or lawsuit off of your hands.
How Our Lawyers Can Serve You
As your car accident lawyers, our duties will include:
Investigating your accident: We will obtain all relevant facts. We may also gather witness accounts, physical evidence, video footage, and the police report of your collision.
Communicating with insurers: There is no need to expose you to risk. We'll deal with insurance companies for you. If you must give a statement, we'll walk you through it.
Identifying your losses: Your damages may include medical care, pain and suffering, lost income, diminished earning power, and vehicle repairs.
Negotiating a settlement: A settlement may come through insurance or directly from liable parties.
Our team will work hard to secure the recovery you deserve.
Call Berger and Green About Your Car Accident Case Today
Don't wait to get legal help. We may have a limited time to file your car accident claim. The longer we have to prepare your case, the better. Call Berger and Green today at (412) 661-1400 for your FREE consultation.
Call or text 412-661-1400 or complete a Free Case Evaluation form