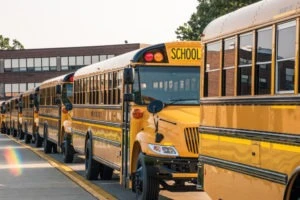 School is back in session. More cars, students and buses on the road can change your morning routine.
It is important to keep in mind that more people on the road may mean a longer commute.
Take your time, avoid all distractions and give yourself plenty of time to get to your location.
Parents, drivers and students can follow these important safety tips to ensure everyone's safety this school year.
School Bus Safety Tips for Children:
When on the bus, children need to remain seated, keeping their head and arms inside the bus at all times.
Arrive early to the bus stop.
When waiting for the bus, keep five steps away from the street.
Always wait until the bus comes to a complete stop before entering or exiting.
Look both ways before crossing the road after getting off the bus.
Walkers:
If your child is of age to walk to school alone, (this can vary state to state)plan and practice a safe walking route with your child.
Walk on sidewalks if possible and always use crosswalks and listen to crossing guards. Try and avoid as many intersections as possible.
Children should try and walk with an adult or friend; it is safer than walking alone.
Look both ways before crossing the street.
Never walk with headphones or while looking down at your phone.
Teach your child about what they should do if a stranger approaches them.
Driver Safety Tips:
Watch for school zone signals and obey speed limits.
Be aware and look out for children that may be traveling close to schools, bus stops, sidewalks and in school parking lots.

Stop for school buses. Give yourself extra time for your commute. When school buses stop, drivers need to as well.
On a school bus, yellow lights mean slow down, red lights mean stop. You must wait at least 20 feet behind the bus when these lights are on.
No matter how a student gets to school, it is important they get their safely. Parents depend on vehicle drivers and bus drivers to practice safe driving when around their children.
One main thing parents, students and commuters can do is simply slow down.
Avoid the morning rush and increase your safety habits. You may need to wake up a little earlier or find a different commute. School days can mean different traffic patterns and longer commutes for all. If we all avoid rushing, a serious accident can be avoided.
We can all do our part by being an alert driver and avoid all distractions when on roadways. Keeping children safe should be a top priority for all.
Sadly, you cannot always protect your children from an accident. It is important, however, to hold negligent parties accountable for your child's injuries.
When a child gets injured, it can have lasting effects and diminish their quality of life. It is important they get compensation for their present and future needs.
If your child was injured in an accident, contact the personal injury attorneys at Berger and Green at 412-661-1400 for a free no obligation consultation.
Call or text 412-661-1400 or complete a Free Case Evaluation form