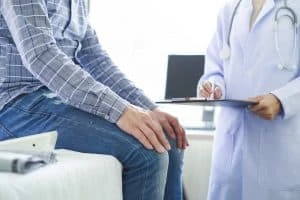 If My Medical Condition Is Not Continuous and Happens Intermittantly, Can I Still Apply for Social Security Disability (SSD) Benefits? You can apply for disability benefits based on an intermittent impairment, but many conditions that only prevent you from working infrequently will not qualify for the Social Security Administration's (SSA) programs. To satisfy the criteria to receive Social Security Disability Insurance (SSDI) or Supplemental Security Income (SSI), your medical records need to reflect a serious, long-term health concern that leaves you with a total impairment in your ability to work.
At Berger and Green, our disability attorneys can evaluate your situation and help you understand if you may qualify for benefits, even though your condition is not continuous. Call our office today at 412-661-1400 for a free consultation about your case.
Will the SSA Award Short-Term Benefits?
The SSA only offers disability for long-term disabilities, not short-term impairments. Before it will award benefits, the SSA needs proof that your impairment has prevented you from working for 12 months, will likely last for at least 12 months, or will lead to your death.
For a free legal consultation, call 412-661-1400
Often, the biggest issue with getting SSD benefits when you have intermittent symptoms is showing how your condition prevents you from working long-term. If your impairment comes and goes, or happens infrequently, it may be impossible to show the SSA you cannot work for a long enough period to qualify. Our attorneys can review your case to determine if your medical impairment qualifies as long-term.
What Is the Next Step to Qualifying for Benefits?
If we can show your condition limits your ability to work for a year or more, we still need to prove you suffer from a qualifying medical impairment. There are two ways to do this:
By meeting the criteria in the SSA's Blue Book; or
By showing you cannot work through a residual functional capacity (RFC) evaluation.
Qualifying Under a Blue Book Listing
The Blue Book is a list of the impairments the SSA considers disabling, along with the criteria you must meet to qualify for benefits based on your diagnosis. Meeting one of these listings—and having the medical documentation to prove it—makes it easier to qualify for benefits based on your intermittent symptoms.
For example, your diagnosis alone rarely meets the listings. However, your diagnosis along with test results may show you qualify for benefits.
Qualifying Through Your RFC
Click to contact our personal injury lawyers today
If you do not meet the criteria under the impairment listing for your condition—or your condition is not listed in the Blue Book—you will need a determination of your RFC (Residual Functional Capacity).
This evaluation documents your ability to do a number of everyday tasks. If your RFC shows you suffer from severe enough limitations that you cannot get or keep a job, you will likely qualify as long as you can show your limitations are long-term.
What If I Am Able to Work Part-Time?
Complete a Free Case Evaluation form now
If you currently work when possible, you may not get benefits if you make too much money. The SSA does not base SSDI benefits on your income, but you need to earn less than the current substantial gainful activity (SGA) limit. If you earn more than this monthly limit during the year before your application and do not meet one of the exceptions to this rule, the SSA may determine you are able to work despite your impairments.
If you earn more than the strict income limits for SSI recipients, you will not qualify under the requirements of the program.
How Can I Talk About My Case With a Pittsburgh SSD Attorney?
If you struggle to hold a job because of your intermittent impairment, you may be eligible for SSD benefits. Episodes can make it difficult to earn a consistent living, and the lawyers at Berger and Green understand how stressful this is. We can help determine if you may qualify for benefits, and can assist as you file your claim.
If the SSA already denied your SSDI or SSI claim based on your intermittent symptoms, we can evaluate your situation and help you file your appeal. We will fight for the benefits you deserve. Call our Pittsburgh office at 412-661-1400 today for a free case review.
Call or text 412-661-1400 or complete a Free Case Evaluation form