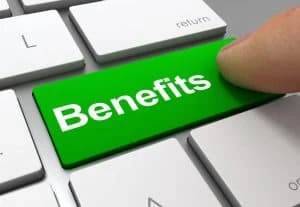 In some cases, you can continue to get some or all your beneficiary/loved one's Social Security Disability benefits after they pass away. These are known as Survivor's Benefits. You may also receive a one-time payment of $255 for a death benefit.
If you have questions or concerns, or if the Social Security Administration denies your Pittsburgh Survivor's Benefits, the team from Berger and Green can help you fight for the payments you deserve. Call or text us today at 412-661-1400 for a free case review today.
Survivor's Benefits If Your Family Member Who Draws Disability Passes Away
If a member of your immediate family draws Social Security Disability Insurance (SSDI) benefits and passes away, you may qualify for Survivors benefits if you meet other requirements. This includes:
A spouse age 60 or older
A spouse age 50 or older and disabled
A surviving divorced spouse, under certain circumstances
A spouse who cares for the deceased's children who are under age 16
A spouse who cares for the deceased's disabled children
An unmarried child of the deceased who is under age 18
An unmarried child who is over age 18 but who has a disability that began before age 22
A stepchild, grandchild, stepgrandchild, or adopted child raised by the deceased
Parents over age 62 who were dependent on the deceased for a majority of their support
For a free legal consultation, call 412-661-1400
How Much Can I Draw on Survivor's Benefits?
The amount of your loved one's SSDI check depended on:
Their employment history; and
How much they paid into Social Security through payroll taxes
Based on this benefit amount, the Social Security Administration calculates the percentage of the full benefit a surviving family member can receive. This calculation includes:
The deceased's benefit amount; and
The survivor's age; and
The survivor's relationship to the deceased
In general, you can expect to receive:
A spouse who is at least full retirement age will get 100 percent of their spouse's benefit amount
A spouse over age 60 but under full retirement age will receive more than 70 percent but less than 100 percent of their loved one's benefits
A spouse with a child under the age of 16 will receive 75 percent of their husband's or wife's benefits
A child can draw 75 percent of their parent's benefit amount.
It is important to note that there are limits on how much the Social Security Administration will pay out based on a single claim. Called Maximum Family Benefits, these limits may mean that, in families with three or more children and no surviving spouse, the children may receive a reduced benefit payment.
Survivor's Benefits If Your Family Member Dies Before Getting Approved
In some cases, your family member may have filed for disability benefits but then passed away while waiting for approval. When this happens, their immediate family can continue a claim and ask for Survivor's Benefits.
For example, imagine your spouse suffered from inoperable cancer. They recently applied for SSDI because they could not work, but they had not yet received approval. If you at least 62 years old or provide care for the children of the deceased who are under the age of 16, you should qualify for Survivor's Benefits as soon as they approve your loved one's claim.
You may also receive additional payments, such as back pay or retroactive pay they would have received. If you do not believe you are getting the fair amount of these payments or you believe your Survivor's Benefits are incorrect, call Berger and Green today at 412-661-1400.
Click to contact our personal injury lawyers today
Berger and Green Can Help You Get the Disability Payments You Deserve
If you are a widow, widower, or another survivor of someone who was drawing disability benefits, you will need to apply for Survivor's Benefits by contacting the local Social Security Field office or calling the Social Security Administration at 1-800-772-1213. We will review your qualifications with you and can help you with this process.
If the Social Security Administration denied your Survivor's Benefits or you have questions about the benefit amount, reach out to us right away. We may be able to help you challenge the decision, but you only have a limited time.
Complete a Free Case Evaluation form now
Talk to a Pittsburgh Social Security Disability Attorney About Your Case
If you have questions or concerns about your SSDI Survivor's Benefits or other benefits related to your disability claim or payments, the team from Berger and Green can help. Call or text us today at 412-661-1400 for a free case review.
Call or text 412-661-1400 or complete a Free Case Evaluation form