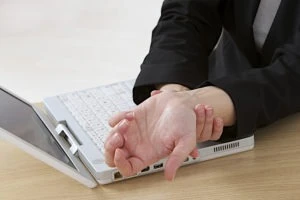 How much compensation you can receive for nerve damage relies on your unique situation, such as:
Your age

The

type of accident that caused the injury

How serious the injury is

How expensive your resulting medical bills are

How your nerve damage has impacted your overall quality of life

How much insurance coverage is available to you
There is no maximum amount of compensation you can recover for damages in most personal injury cases. However, if you want to pursue recovery for damages against the Commonwealth of Pennsylvania, PA CSA §8528 enforces a $250,000 limit per incident.
Types of Damages You Can Recover for Nerve Damage
Because there is no average settlement amount, which damages and how much you can recover depend on your case. However, there are two main types of damages that nerve damage victims can recover after an accident.
Pursuing Economic Damages
These losses cover your financial damages, so calculating them can be more straightforward. They include:
Emergency transportation

X-rays, blood tests, and other diagnostic assessments

Medication

Assistive medical devices

Surgeries

Hospital stays

Physical and/or chiropractic therapy

Follow-up doctor's appointments

Lost wages

Future lost earning capacity

In-home care expenses
Pursuing Non-Economic Damages
Contrary to economic damages, non-economic damages refer to your emotional and physical hardships that came with your nerve damage. Examples might be:
Pain and suffering

Inconvenience

Mental anguish

Loss of enjoyment of life

Disability

Disfigurement
Both of these lists are not exhaustive, but they can give you an idea of what you can recover. If you were injured in a car accident, you might have to meet certain qualifications to pursue non-economic damages.
You can rely on your lawyer to assess and quantify all of your damages—you might even be entitled to pursue some that you don't know about yet.
How Our Lawyers Can Help You Receive Compensation for Your Nerve Damage
Suffering from nerve damage can restrict your mobility and take a toll on all areas of your health. Taking legal action might be the last thing you want to do.
If you hire our law firm, you can rest up while we take care of the different aspects of your case for you. In addition to evaluating your damages, we can:
Order the incident report

Review your medical records

Talk to your medical team to get an idea of what your recovery will look like

Gather photos of your injuries and the accident scene, if available

Talk to witnesses of the accident

Determine and name the liable party

Communicate with all involved parties

Negotiate a settlement on your behalf

Represent you in court, if necessary
If you notify us soon enough, you can count on a lawyer at our firm to promptly submit a lawsuit for you.
Under PA CSA §5524, the state allows two years to take action for people who suffered nerve damages due to another person's negligence. Failing to comply with this deadline might keep you from receiving compensation at all.
We Represent Injury Clients Who Suffered Nerve Damage in Various Cases
Your accident could have occurred in a number of settings. We represent nerve damage clients in the following areas of personal injury:
Auto accidents, including pedestrian, bicycle, motorcycle, car, or truck

collisions

Premises liability, including slip and fall accident and dog bites

Product liability

Nursing home

abuse

Workplace injuries
If your accident didn't occur in any of the above scenarios, we still want to hear your case to see if we can assist you in your pursuit of compensation.
Treating
Nerve Damage Injuries
After your accident, we advise seeking medical attention right away. Not only will getting an early diagnosis prevent the injury from getting worse, but proof of a doctor's visit will also serve as a great form of evidence when building your case.
If you have not yet gone to a doctor but suspect you have some kind of nerve damage, the Mayo Clinic advises to watch out for these symptoms:
Sharp, burning pain

Numbness in hands and feet

Weak muscles

Weak coordination

Falling

Sensitivity to touch

Dizziness

Change in your blood pressure

Paralysis
Nerve damage can be treatable, but serious cases might entail a long road to recovery.
Get in Touch with Berger and Green Today
Call on Berger and Green to help you pursue the compensation you need to recover. During your call, we can discuss how much you could seek for nerve damage and how we can help you file a claim or lawsuit.
Our nerve damage lawyers work for a contingency fee, so don't worry about paying us upfront or hourly for our services. Once we win compensation for you, we will subtract our payment. You don't have anything to lose when hiring us, so call now.
Call or text 412-661-1400 or complete a Free Case Evaluation form