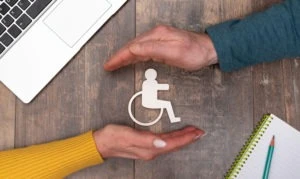 You can qualify for Social Security Disability Insurance (SSDI) and Medicaid at the same time if you meet the program's income requirements. Additionally, SSDI recipients automatically qualify for Medicare, but there is a mandatory 24-month waiting period for coverage.
What Is the Difference Between Medicare and Medicaid?
Medicare and Medicaid are both health care programs supervised by the government. The Social Security Administration (SSA) automatically enrolls retirement program beneficiaries (usually age 65 and older) in Medicare. SSDI recipients also automatically qualify for Medicare. However, you must be eligible for SSDI benefits for at least two years before coverage begins.
Medicaid is a needs-based program that serves low-income individuals of all ages. If you receive SSDI but are not eligible for Medicare yet, you may qualify for Medicaid, depending on your income. Though it is a federal program, Medicaid is state-run, and each state sets its own income requirements. You can find out how to contact your state about its Medicaid program here.
Medicare beneficiaries pay a small fee for coverage in copays, and some may pay a low monthly premium. However, Medicaid recipients usually do not pay any fees, though a small copay sometimes applies.
For a free legal consultation, call 412-661-1400
SSDI and Supplemental Security Income (SSI)
Like Medicaid and Medicare, SSDI and SSI are two separate, government-run programs with their own qualifications. While both provide benefits to disabled individuals, eligibility for the programs differs:
SSDI – SSDI recipients qualify based on work credits earned through Social Security income taxes. In general, beneficiaries must have a minimum of 20 credits, or about five years of work, to qualify.
SSI – SSI beneficiaries do not need work credits. Instead, eligibility is needs-based and open to individuals with minimal income and resources. In many states, SSI recipients automatically qualify for Medicaid.
What Does Medicaid Cover?
According to Medicaid.gov, under federal law, all states must provide coverage for certain mandatory benefits, including but not limited to:
Inpatient and outpatient hospital services
Physician services
Family planning services
Early and periodic screening, diagnostic, and treatment services
Laboratory and x-ray services
Home health and nursing facility services
Pediatric and family nurse practitioner services
Transportation to health care services
States can choose to provide coverage for other optional benefits, which may include:
Eyeglass
Dentures
Prescription medications
Hospice
Respiratory care services
Dental services
Podiatry services
Treatment for speech, hearing, and language disorders
What Does Medicare Provide?
According to the SSA, Medicare has several coverage options. Medicare Part A pays for hospital insurance, some health care services, and hospice care. Most people over the age of 65 who have worked and paid Medicare taxes qualify for free Part A.
Medicare Parts B, C, and D cost recipients a small premium. Part B provides medical insurance. Part C, now known as the Medicare Advantage Plan, bundles Parts A and B coverage into one plan. Part D helps cover the cost of prescription medications.
Click to contact our personal injury lawyers today
Can You Receive Medicaid and Medicare Coverage at the Same Time?
As mentioned, if you receive SSDI benefits, you are eligible for Medicare coverage after 24 months. However, if you qualify for Medicaid benefits while waiting, you may be able to keep this coverage. But, again, this depends on your income.
According to the American Association of Retired Persons (AARP), this is known as "dual eligibility." Under these terms, Medicare is your primary insurer, but Medicaid may cover other treatments that Medicare does not, such as dental care.
Complete a Free Case Evaluation form now
Do You Qualify for Disability Benefits?
You can seek SSDI if you have a qualifying condition that is disabling, have enough work credits, and cannot perform substantial gainful activity (SGA) because of your condition for at least 12 months. In 2022, the SGA limit is $1,350 per month ($2,260 for blind recipients).
The Blue Book lists eligible conditions, including:
Cancer
Respiratory disorders
Speech, hearing, and vision impairments
Immune disorders
Chronic heart problems
Burns and skin disorders
Mental disorders
Neurological disorders
Chronic kidney or liver disease
Digestive disorders
Musculoskeletal disorders
Endocrine disorders
Hematological disorders
How Can a Social Security Disability Lawyer Help You?
Applying for SSDI can be complicated, and the first attempt at seeking benefits often results in a denial. An attorney with our firm can help you appeal your SSDI claim. We can:
Review your initial application
Correct technical or clerical mistakes
Help you provide additional or more current medical evidence
Assist you with obtaining and submitting financial documents
File for a reconsideration
Represent you during an Administrative Law Judge (ALJ) hearing
File an Appeals Council review
Represent you during a civil action in federal court if necessary
Call Our Office for a Free Case Review
Contact Berger and Green for help with your Social Security disability claims. We can help you understand and fight for the benefits you deserve. We only collect a fee if we win your case and secure your payments.
Call or text 412-661-1400 or complete a Free Case Evaluation form