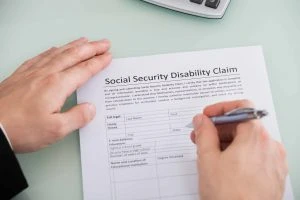 People who suffer from a long-term disability and are unable to work can file for Social Security disability benefits. However, it is a good idea to make sure you know how to apply for Social Security disability before you take the first step. This can help you expedite the process and prevent an unnecessary denial.
Applying for benefits is difficult, but you do not need to go through it alone. For help in Pittsburgh, call Berger and Green at 412-661-1400.
How do I apply for Social Security disability benefits?
As soon as you become disabled, do the following:
List Your Medical Records
Before filing your claim, make a list of your medical providers including names, addresses, and telephone numbers to show the claim examiners that you are receiving regular treatment for your medical condition.
Make sure your medical records also include notes from your doctor about whether your condition keeps you from working. Detailed medical records featuring your doctor's opinion about your condition can make all the difference when it comes to your application.
You might also consider asking your boss and coworkers for statements showing how your disability keeps you from working.
Apply However You Feel Most Comfortable
Disability claims take a while to process so it is important that you file your claim as soon as possible. The sooner you file your claim, the sooner you will receive your decision and get the benefits you need.
The SSA offers a few different methods for application. You can:
Call Berger and Green at 412-661-1400 to help you file an application.
Apply in person (the Pittsburgh SSA office is located at 921 Penn Ave.)
Call to apply (1-800-772-1213)
Apply online
Be sure to submit your list of medical providers when you submit your application.
Have Your Doctor Fill Out a RFC form
If your condition is not in the Blue Book, ask your doctor to fill out a residual functional capacity (RFC) form. This form assesses your ability to work with your disability. It can prove that there are no jobs that you can adjust to given your disability.
For a free legal consultation, call 412-661-1400
Will the SSA approve my application?
To qualify for benefits, you must have worked long enough in jobs covered by Social Security. Also, to qualify, you cannot currently be, or capable of, engaging in "substantial gainful activity" (i.e., earning more than $1,170 per month).
Your medical condition must also meet the definition of disability under the SSA's guidelines. To do so, you can either meet the severity criteria for a listing in the Blue Book or show that your condition is so severe it keeps you from performing basic work-related tasks, such as sitting, standing, kneeling, squatting, lifting, etc.
If the SSA determines that you have an adequate number of work credits, do not make more than $1,170 a month, and meet the definition of disability, it will likely approve your application for benefits.
The SSA denied my application. Can I appeal?
If the SSA denied your claim, you can appeal the decision. You only have 60 days to make this request. We can help with every step of the process. Generally, the appeals process is as such:
In most states, you appeal the initial decision by filing a request for reconsideration. The SSA will review your claim along with any new evidence you provide.
If the SSA denies your request for reconsideration or you live in a state that does not require a reconsideration, you and your attorney may request a hearing with an administrative law judge (ALJ). This is your chance to explain your case in person, and your best chance at getting the SSA to overturn the denial of your benefits. Attorneys can be particularly helpful at this stage as they can represent your case and prepare you for any questions the ALJ might ask you.
If the ALJ upholds the original decision, you can request the Appeals Council review the ALJ's decision. The Council may send your case back to the ALJ with additional instructions, overturn the ALJ's decision, or uphold the original decision.
If the Appeals Council upholds the decision, your final option for appeal will be to request a Federal Court review.
We can represent you throughout the entire appeals process and ensure you have the best chance of obtaining the benefits you need.
Click to contact our personal injury lawyers today
Get help from Social Security disability attorneys in Pittsburgh.
Being disabled and unable to support yourself and your family is a scary situation to be in. Social Security disability benefits may be the only way you can stay afloat.
However, the disability claims process is not easy. From 2004 to 2013, the SSA only approved, on average, 36 percent of claims. The SSA denies most claims due to lack of proper evidence, a technical mistake, or a failure to file on time. Having a Social Security disability attorney from Berger and Green by your side can be the difference between recovering benefits and being denied financial support during your time of need.
Our team can thoroughly analyze your case and determine the likelihood of a successful claim. We can then help you file your application and help SSA collect the evidence needed to prove your disability to the SSA.
If the SSA denies your claim, we will be there for the entire appeal process. A Berger and Green attorney will review the reasons for your claim denial and find ways to address those issues.
If you are suffering from a disability and cannot work, call Berger and Green at 412-661-1400 today to find out how to apply for benefits the right way the first time.
Call or text 412-661-1400 or complete a Free Case Evaluation form