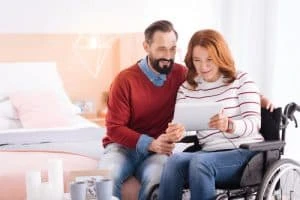 You may be eligible to collect Social Security Disability benefits if you have a physical or psychological condition that prevents you from working. These conditions are outlined by the Social Security Administration (SSA) in what is referred to as the "Blue Book." In this document, the SSA outlines what conditions qualify as a disability and provide additional information in what this means for your eligibility. Whether you qualify for benefits will be at the discretion of the SSA.
Determining Your Eligibility for SSDI and SSI
If you have a physical or mental condition that is expected to last for more than a year, you may be eligible to receive government assistance.
You may qualify for Social Security Disability Insurance (SSDI) if you meet the following criteria:
You are at least 18 years old
You have a condition that prevents you from working or is expected to end in your death
You need something called "work credits" to qualify for these benefits. Your earnings and work history are converted into credits that will determine your eligibility for SSDI. According to the Social Security Administration: "In 2020, you receive one credit for each $1,410 of earnings, up to the maximum of four credits per year." The number of credits you need relating to your age can be found on the SSA's website.
If you do not have sufficient work credits to qualify for SSDI, you have the opportunity to file for Social Security Income (SSI). This is for low-income applicants who need assistance affording basic necessities, including food, shelter, and clothing.
Depending on your situation, you may qualify for Supplemental Security Income (SSI) if:
You are between the ages of 18 and 65 years of age
You have a condition that prevents you from working or is expected to end in your death
You meet the income and resource limitations
You need to include all the relevant information in your application to ensure that your situation is appropriately assessed by Social Security.
For a free legal consultation, call 412-661-1400
File a Single Application for SSDI and SSI Benefits
You can file for SSDI and SSI benefits at the same time. They are two separate applications When you apply for both types of benefits together, the SSA calls this a concurrent filing.
SSDI and SSI Application Checklist
When you and your lawyer work together to complete an individual or concurrent benefit application, the SSA recommends having the following supportive documents on hand to ease the application process:
Your birth certificate and Social Security card
Your spouse's birth certificate and Social Security card (if married)
Marriage certificate and divorce decree (if applicable)
Names and dates of birth for your minor children (if applicable)
Banking information for direct deposit of your benefits
Names and contact information for your health care providers
A detailed description of the illness or injury that prevents you from working
A list of any medications you are taking and their prescriber
Your employer and income information from the previous year
You might also need information about other financial benefits you receive, including workers' compensation, other federal benefits, and military benefits.
Know Your Rights as an SSDI or SSI Applicant
When you apply for government assistance, you have certain rights that should not be violated.
Those rights include:
Applying for benefits
Having a legal representative by your side
Receiving written notification of your eligibility
Being able to see and examine your file upon request
Filing an appeal if your application is denied
A lawyer can help you understand all the rights you are entitled to during the application or appeals process.
Click to contact our personal injury lawyers today
A Social Security Lawyer is Your Advocate
Find out if you can collect either Social Security Disability Benefits or SSI with guidance from a lawyer. Applying for benefits can be a long and arduous experience by yourself, and working with a legal professional can ease the process.
When you work with the legal professionals at Berger and Green, we can help you apply for benefits and ensure the SSA has the appropriate information about your condition. We can also help you file an appeal if your original application is denied.
To learn more about what a Social Security disability lawyer can do for you, call Berger and Green at (412) 661-1400 today.
Call or text 412-661-1400 or complete a Free Case Evaluation form